For many of our products we offer the possibility to create the artwork directly on the website using our Designer Tool!
Go to the product page and select the desired attibutes
Under the table with date & prices, the feature "create your file" will be displayed (if it's available for the selected product)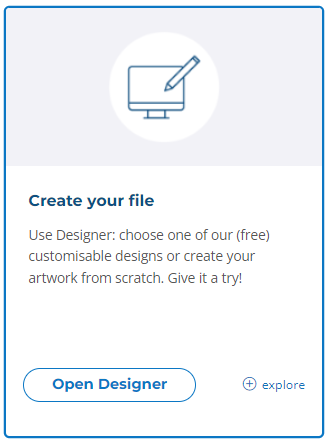 You can use the Designer to upload your file and have a preview of the product with your graphics
You can also choose one of our predefined designs and customise it following your choice (dimensions, layout, color, adding text/pictures...)
Check your creation and add it to the cart or send the file for printing if you have already placed the order.
Please note that:
The file will be sent to production immediately without verification (unless you have requested the PRO File Check & Fix service)
There is no possibility to replace the creation after its confirmation
It is currently not possible to download or save the file for later use
If instead you would like help from our Designer team to edit or create your file, we're happy to offer you our Design Services: find here  what you're looking for!
If you have any further questiones, please do not hesitate to contact us!